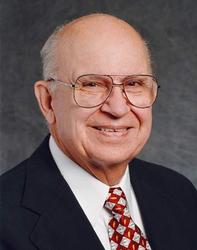 Victor Bussie
Services will be held on Friday, September 9, for longtime AFL-CIO President Victor Bussie, who passed away in his sleep on Sunday, September 4.
"In his 41 years as president of the Louisiana AFL-CIO, 'Mr. Vic' championed public education and was an unflinching advocate for children and the men and women who work on their behalf," said LFT President Steve Monaghan.
Louis Reine, current president of the Louisiana AFL-CIO, said that Bussie was a tireless advocate for working people.
"Mr. Bussie believed in and fought for the achievement of equal civil rights, equal rights for women, minimum wage, workplace safety requirements, free and equal education, defined benefit pension plans, and labor law initiatives for Louisiana," said Reine.
Bussie began his career in 1940 as a firefighter in Shreveport. In 1956, after the merger of the American Federation of Labor and the Congress of Industrial Organizations, he was elected as the new Louisiana union's first president, and was reelected every year for 41 years, until his retirement in 1997.
For decades, he was one of the most powerful political figures in the state, working with governors and legislators of all political persuasions. Always a tough negotiator and fierce advocate for workers, Bussie won praise from opponents for his civility.
He was an early and strong proponent for civil rights, supporting integration even after his home was firebombed by the Ku Klux Klan.
Bussie served on a number of boards and commissions, including the LSU board, the Commission on Ethics for Public Employees, the advisory board of LSU's Pennington Biomedical Research Center, the Governor's Economic Development Review Committee and the Governor's Pan American Commission. He once served as director of the Federal Reserve Branch in New Orleans.
He is survived by his wife, Fran Bussie. Services will be held Friday in the main sanctuary at First United Methodist Church in downtown Baton Rouge on North Boulevard. Visitation will be from 9 a.m. to noon at the church.