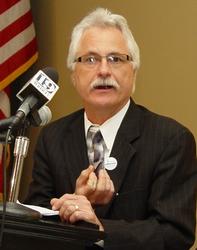 LFT President Steve Monaghan at the League of Women Voters debate on privatizing the Office of Group Benefits.
(Baton Rouge – August 16, 2011) Even though thousands of public employees are wondering how they will be affected by the proposed privatization of a state health insurance plan, Gov. Bobby Jindal and his advisers skipped a League of Women Voters forum on the subject Tuesday.
That left only opponents of the privatization scheme, including Louisiana Federation of Teachers President Steve Monaghan, to talk about the issue.
Privatizing the PPO plan offered through the State Office of Group Benefits is one of the main goals of the Jindal administration. That office provides health insurance for teachers and school employees in 44 school districts, as well as for state retirees. In all, some 62,000 employees and their dependents are members of the PPO plan.
At Tuesday's debate, League of Women Voters President Jean Armstrong made several pointed references to the governor and his advisors. "I was sure they would send somebody" to explain why the governor believes the sale of the office is a good idea, she said.
Those who attended the forum were happy to explain what's wrong with the scheme.
State Senator Butch Gautreaux, an ardent foe of privatizing the OGB, said that the administration "is doing it for a political ideology, not because it makes sense."
Former OGB director Tommy Teague told the audience that the office is a model of efficiency, providing health coverage for lower cost than a private insurer. Management costs at OGB are less than four percent, he said, while a private company's management costs range from 10 to 15 percent.
Through good management practices, Teague said, OGB has built a reserve fund of more than $500 million over the past few years. Much of that could wind up in the coffers of the private firm that buys OGB's book of business, he said.
All of the panelists spoke of the danger that privatization poses for state workers, including teachers and school employees in the 44 school systems that provide health insurance through OGB. All agreed that premiums would rise and benefits reduced if the plan is privatized.
The OGB employees who work with plan members could be replaced by offshore telephone call centers. That prompted Monaghan to quip, "It reminds me of the television commercial, where people looking for help are answered by a foreign man who says 'Hello, my name is Peggy'."
In a more serious vein, Monaghan complained that the Jindal administration has not been forthcoming with information about its plans for the OGB sale.
"The answers are not satisfactory," Monaghan said. "I'm rather blinded by the light, or lack thereof. There is no transparency."
The president of the Retired State Employees Association, Frank Jobert, noted that many state retirees are not covered by Social Security or Medicare. They would be in dire straits if a private insurer decided to cut their health coverage, he said.